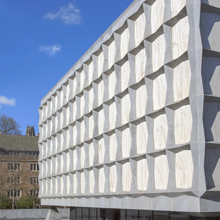 The Beinecke Rare Book & Manuscript Library will close its iconic building in May 2015 for a major renovation. The building closure will occur in two stages:  
The library's reading room will close at 4:45 p.m. on Friday, May 8. This will provide staff sufficient time to prepare to open a temporary reading room in the Franke Family Reading Room at Yale's Sterling Memorial Library. The library's public exhibition space will remain open through Monday, May 18.
 
The temporary reading room will open at the Sterling Memorial Library on Tuesday, May 19. Researchers will have access to collection materials there throughout the renovation, though access to some collections will be limited.
There will be no access to Beinecke collections from May 9 until the temporary reading room opens on May 19. The library's building will reopen in September 2016.