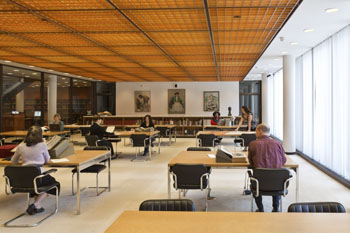 The Beinecke Library's iconic building has closed for renovation, but its collections remain open for study.
We opened a temporary reading room today in Sterling Memorial Library to provide researchers access to collection material throughout the renovation. It is located in the Franke Family Reading Room. Turn left just inside Sterling's main entrance and you're there. Its hours are Monday through Friday, 9 a.m. to 4:45 p.m.
Due to constraints caused by the renovation, paging items will take longer than usual. Please request collection material online at least two business days in advance of your visit. Some material may be temporarily unavailable. Consult the closed collections schedule when planning a research visit.
If you need help planning your research visit, please contact our access services staff at beinecke.access@yale.edu.