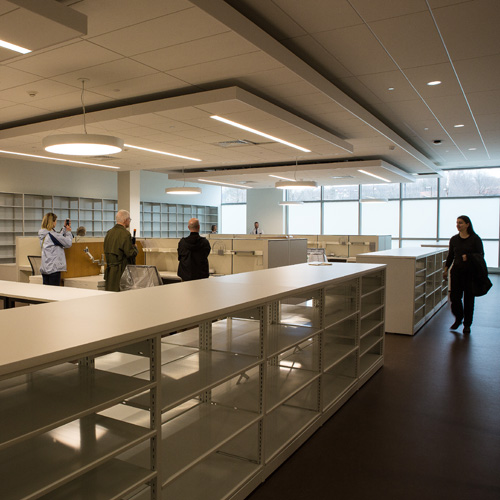 The Beinecke Library's Technical Services Department, the staff members responsible for cataloging, processing, and digitizing the library's collections, recently moved into a new headquarters located on Winchester Avenue in New Haven's Science Park.  
The site, which once housed a U.S. Repeating Arms plant, was custom-built to accommodate the specialized work of processing and preserving manuscripts, archives, and printed materials. Construction began in August 2014. 
The 43,000 square-foot space is spread out over a single level so that staff will not have to carry materials on stairs or elevators. It features an expanded digital studio and digital archeology lab for working born-digital materials. A loading dock, a feature unavailable at the Beinecke's Wall Street building, will facilitate the safe and secure transfer of collection material. There is ample meeting space and a spacious staff lounge. The building's frosted glass windows, while not as stunning as the Beinecke Library's translucent marble, provide a lot of natural light.  
While staff members were sad to leave the beloved space at 121 Wall Street, everyone worked diligently to ensure that the transition unfolded as seamlessly as possible.  
Yale University Library's Preservation Department is scheduled to move into the space in July.