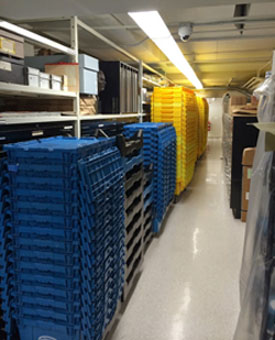 Work crews today began clearing 12,000 linear feet of collection materials – roughly equivalent to 120,000 books – from the Beinecke Library in preparation for the May 2015 building renovation.
Today's was the first of 18 bulk transfers, scheduled between now and December, to Yale University's Library Shelving Facility in Hamden, Conn, which already houses a large amount of the Beinecke's collection material. About 250 crates will be packed and shipped during each transfer.
All told, the project requires the relocation of about 25,500 linear feet of material, about 255,000 books. This includes the 180,000 volumes housed in the library's six-story glass stack tower.
While 12,000 linear feet is designated for the shelving facility, the remaining 13,500 linear feet will be moved to protected areas in the Beinecke's basement stacks where a temporary heating, ventilation and air-conditioning system will provide proper climate conditions while the building is renovated.
Unfortunately, the transfers require the temporary closure of several of the library's most popular archival collections. Those collections will be closed for up to eight weeks. Researchers planning to visit the Beinecke should consult the closed collections schedule to confirm that desired materials will be available.