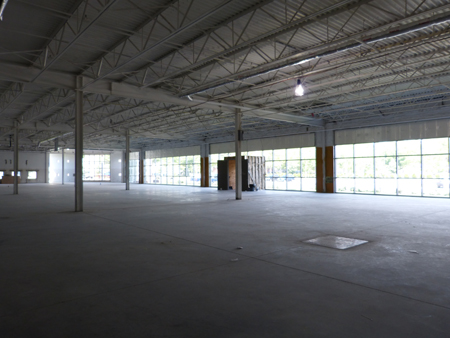 Construction began this week to transform an acre-sized office space located in Science Park in New Haven into a headquarters for the Beinecke Rare Book & Manuscript Library's Technical Services Department, the staff members responsible for cataloging, archival processing, and digitizing the library's collections.
The
new space
, located about a mile from the library's iconic building, will also house several units of Yale University Library's Preservation Department. 
The space has been specifically designed to accommodate the specialized work of processing and preserving manuscripts, archives, and printed materials. Tables will be strong enough to support hundreds of pounds of books and manuscripts. Carpeting will be restricted to specific areas, such as the staff lounge, to accommodate book-cart traffic. The space is spread out over a single level so that staff will not have to carry materials on stairs or elevators.  A loading dock, a feature unavailable at the
Beinecke's
main building, will facilitate the safe and secure transfer of collection material. 
At about 43,000 square feet, the space is large enough to consolidate operations that currently occur in three locations into a shared space with room to spare. Sharing the space with the Preservation Department will put Beinecke staff in close proximity to the people and operations dedicated to the physical care of the library's collections.
Construction will be completed in the early spring, providing sufficient time for the Technical Services Department to move in ahead of the May 2015 closure of the Beinecke's Wall Street building for major renovations.  
View a floor plan and pre-construction photos of the space in
this slideshow
.